Here are some examples of some custom family crests designed from our stock family name library. We incorporate your heraldry for your family and then work with you to stylize you unique shield to create your custom family crest like nothing else out there. Don't settle for a a mouse pad from an image mill to represent your family name. Work with us to create a one-of-a-kind heirloom you will be proud to own, display and to pass on to family members when your work on this earth is done.
These are just a few examples of our stock family crest heraldry images on a custom shield. While we should not adjust the core central heraldry, you are free to stylize your custom crest anyway you want. Use your imagination, or let our graphics pros make some suggestions. We almost analyze each project to try and fit the best complimentary background you make your family crest pop and be color coordinated.
The cost on a completed family crest using our stock graphics averages $199 for a hanging shield.
Here is a comparison of a family crest art file and the final shield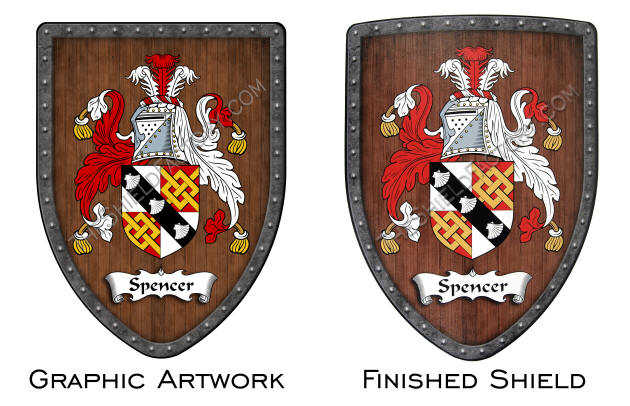 Send your images to us at


please type it in to help us fight SPAM
Send us your artwork if you have it. Otherwise we can work with our stock family crest heraldry images to create your custom shield.